Visiting Hours
8a.m.-4:30p.m. M-F
8a.m.-3:00p.m. Saturdays & Sundays in October
Annual Events
Cranberry Blossom Day, always the last Saturday in June from

9am-11am

Harvest Day (see below)is always the first

Saturday

in October. Rain or shine we promise cranberry harvest.  Tours from

9am-12:00pm
Private Group Tours
Would you like a private tour of our farm and facilities?
Please call 608-378-4813 for private group tours.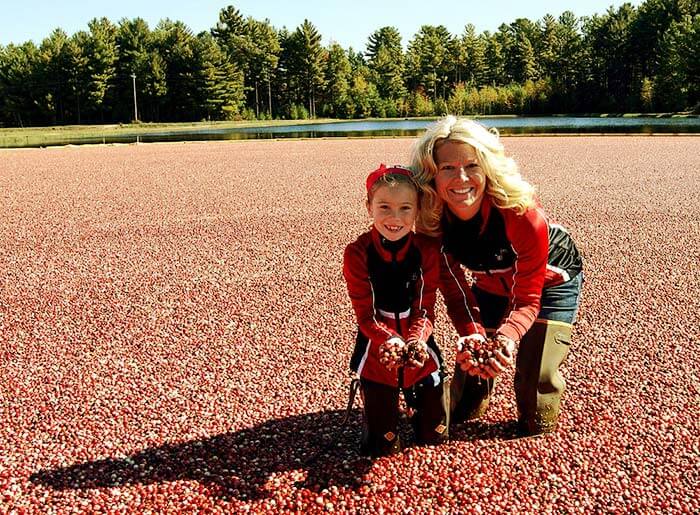 Our Public Harvest Day gives visitors a chance to see cranberries being harvested whether there is rain, shine or snow (we've harvested in them all).
We set aside several beds each year for this occasion and try to show several different stages of harvesting taking place.
You will be able to take pictures and videos of cranberries being harvested and have all your cranberry questions answered. Including our favorite, "Do cranberries grow in water?"
Family members of the Wetherby Cranberry Company will be your personal guides to explain what you are seeing and answer all other questions you have.
The packaging warehouse will be open and fresh cranberries will be available to be purchased.
It's a great way to see harvest for the 1st or 50th time and see a truly unique agriculture harvesting experience firsthand.
From young children through senior citizens, all will enjoy the sights of the "sea of red" being harvested.
Map to Wetherby Cranberry Company
Us the map controls on the left side of the map below to zoom in and out.
Get Directions
Wetherby Cranberry Company
Wetherby Cranberry Company
3365 Auger Road
Warrens, WI 54666
Phone: 608-378-4813
Fax: 608-378-3157