About Wetherby Cranberry Co.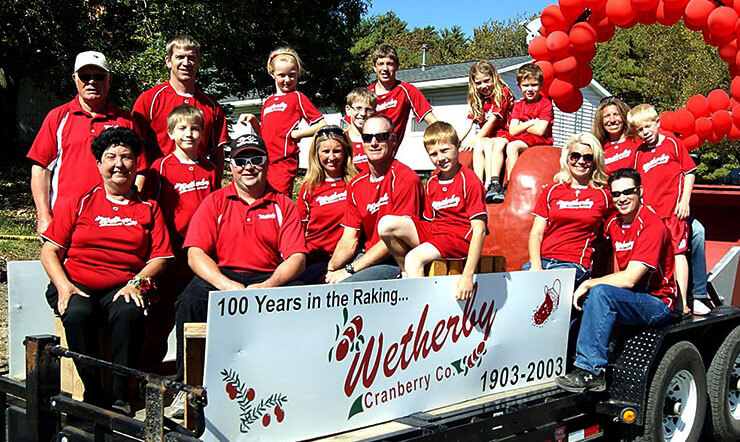 Welcome to the Wetherby Cranberry Company in Warrens, Wisconsin. Today, 3rd generation growers, Jim and Nodji Van Wychen along with their son, Henry and son-in-law, Michael Gnewikow are proud to call this a truly family owned and operated marsh in the heart of cranberry country. Van Wychen's other three children and eight grandchildren are also major contributors to the success of the marsh year round.
Wetherby was founded in 1903 and began packing fresh cranberries in 1905. Since then, fresh fruit has been the foundation. Beginning in 1973, the first year of the famous Warrens Annual Cranberry Festival, Wetherby has had a presence selling their fresh, hand sorted cranberries at the farmer's market to kick off the fall harvest season. From the end of September through Thanksgiving, our fruit can be purchased at the marsh or shipped throughout the United States. Homemade Wine and sweetened dried cranberries are other products that are offered throughout the fall as well.
The state of Wisconsin is responsible for 60% of the worlds' production of cranberries! And because of this proud fact, it is the Van Wychen's passion and mission to educate the public about the cranberry year round. Something quite common around the marsh are tours from overseas, local schools, travel groups and families on the marsh witnessing the native fruit being grown and harvested throughout the year. It's become an annual tradition to host for the public our "Harvest Day." We promise our guests to come see the harvest process rain or shine. This growing event is always the first Saturday in October from 9a.m. till noon. The most popular attraction for visitors is to slip on some waders and actually be able to enter a cranberry bed, where the fruit is floating, just like the famous Ocean Spray commercials. Bring your camera for this once in a lifetime photo!
For our family, growing cranberries is more than a job; it's our way of life! We hope you'll make Warrens and Wetherby Cranberry one of your next destinations!
The Van Wychen Family
3rd, 4th and 5th Generation Strong!